6 Style Tips for Plus-Size Women
Posted by MAXIM CLAES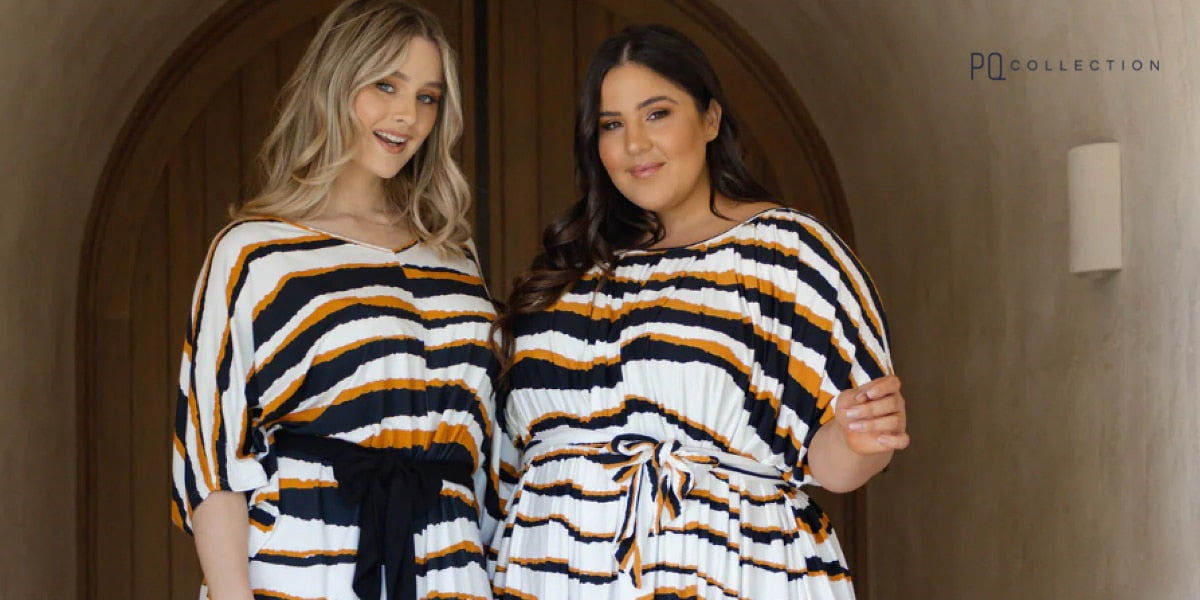 When it comes to fashion, every woman wants to feel confident and beautiful. But it can be challenging for plus-size women to find affordable clothing to flatter their figure and enhance their natural beauty. So in this blog, we'll share six style tips for plus-size women to find pieces that can be part of their go-to wardrobe to help them look and feel their best.
1. Embrace your curves.
One of the biggest misconceptions about plus-size women is that they should try to hide their curves. But this couldn't be further from the truth. Your curves are what make you unique and beautiful, so embrace them! Choose clothing that fits well and flatters your gorgeously curvy silhouette, like A-line skirts and wrap midi dresses. Or if you prefer a loose breezy feel, one of our ruffle dresses or a miracle dress.
2. Experiment with different necklines.
Since we're sharing a quick style guide for plus size, let's not forget about necklines. Different necklines can have various impacts on how you look and feel in your clothes. For example, V-neck tops and dresses with draped necklines can elongate your neck and draw the eye downward, creating a slimming effect. Off-shoulder dresses and boat neck tops are also great. They help in balancing out wider hips and creating a more proportional look.
3. Play with patterns and prints.
Plus-size women often stick to black pieces and shy away from patterns and prints. But fashion for plus size doesn't always have to be all-black. Patterns and prints can be a great way to add some fun and interest to your outfits. Just make sure to choose dresses with patterns that flatter your figure and tops that don't add bulk where you don't want it. For example, horizontal stripes can make you look wider, while diagonal stripes can help to create a slimming effect. 
4. Invest in quality undergarments. 
Good undergarments are the foundation of a well-fitting outfit. Make sure you have the right size that supports your body type, especially when it comes to bras. A well-fitting bra that improves your posture while giving you a smoother silhouette and support under your clothes. With this simple tip, you might find more top and dress styles that look good on plus-size women. 
5. Accessorise with statement pieces.
Accessories can help add some personality to your go-to fashion pieces and draw attention to all your best features. So after picking your favourite outfit, consider wearing a statement necklace or earrings or adding a bold scarf or hat. These items can help you create a polished and put-together look, even when wearing something simple.
6. Find the right fit. 
Last but not least, finding the right fit is key to looking and feeling your best in your clothes. Make sure you take the time to try on different sizes and styles to find what works best for you. Don't be afraid to ask for help from a stylist or salesperson who can give you advice on what to look for in a well-fitting garment. If you're shopping online here at PQ Collection, feel free to use our comprehensive size guide to help you find that perfect fit - and don't hesitate to reach out to us if you have questions. 
The Bottom Line
These six style tips for plus-size women can help you embrace your curves, and feel confident and beautiful while enjoying the joys of fashion. Don't be afraid to experiment and try new things - and remember that the most important thing is to feel good in your own skin. So go ahead, celebrate your beauty and rock those fabulous curves! Collection 2019 Sale 70% Off Title for image