PQ Collection X Fiona Falkiner
Posted by PQ COLLECTION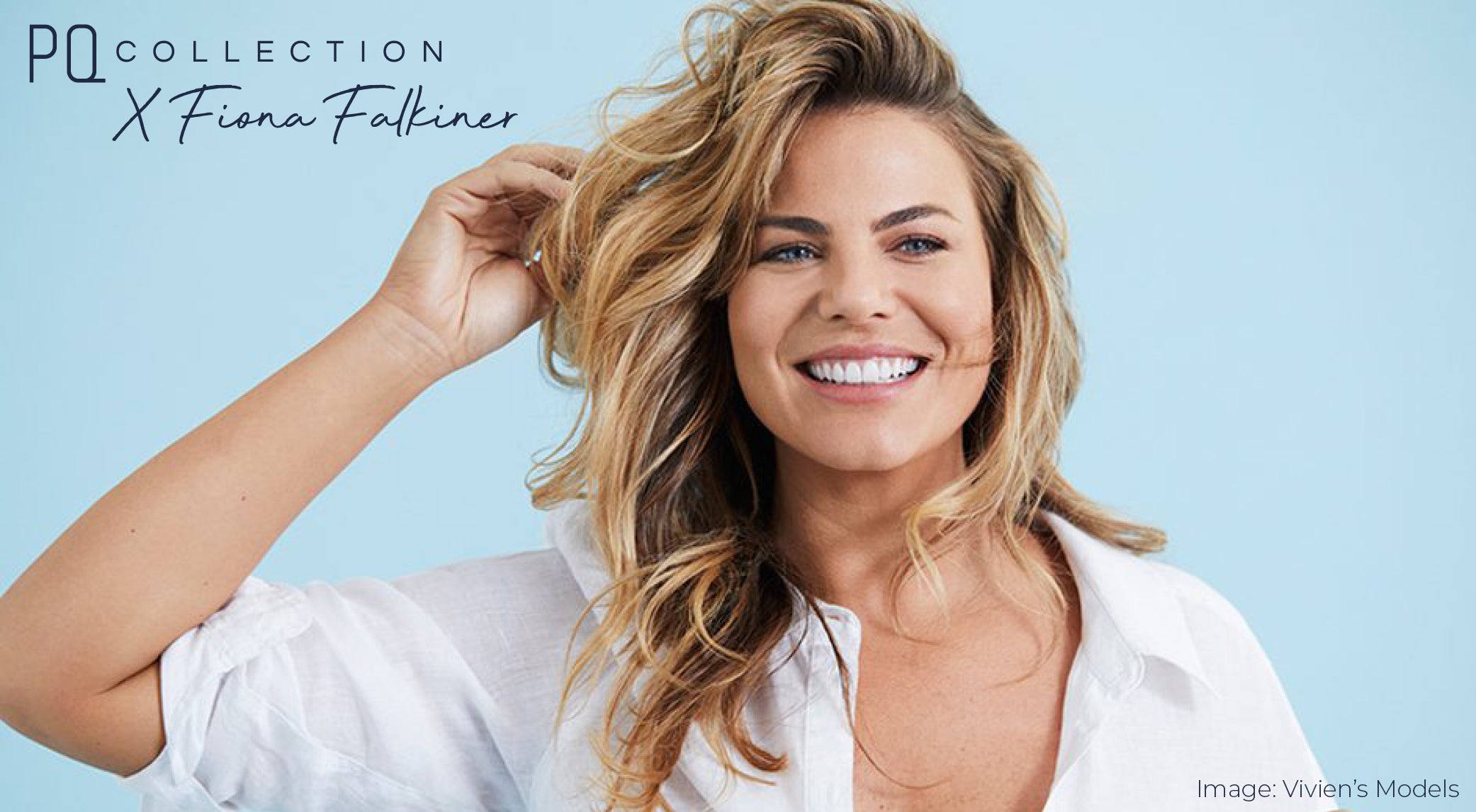 by Nikkila Goulding
WATCH FIONA'S IGTV WITH PQ COLLECTION, AND READ OUR INTERVIEW BELOW
Among being a Model, TV Presenter, and former 'The Biggest Loser' star and host, Fiona Falkiner is a passionate body positive advocate and self-described 'curvy fashion enthusiast'.
PQ Collection strives to promote body positivity and size inclusivity, so to collaborate with Fiona was an absolute match made in heaven. Fiona hand-picked 10 of her favourite new PQ items to try on and review, giving her honest opinions on the prints, colours and fit to assist in answering all of your need-to-know questions about our range. You can watch Fiona's IGTV video below or via her Instagram page @fionafalkiner.
Read our interview below to get to know Fiona and learn about her journey with body confidence, her own personal fashion style, and what's next for this absolute superstar!
You describe yourself as a 'curvy fashion enthusiast' on Instagram, what does this mean to you?
I've been a curvy girl most of my life and have always struggled to find clothes that fit me and work with my body shape. When I discover brands catering for bigger sizes, and investing time and effort in creating designs that flatter all shapes - I love to share them with others! The more brands I share, the more women out there can see that there are clothes that look fabulous on us curvy ladies!
How has your journey with body confidence evolved to where you are today?
My journey has been a long road that's for sure, but I am now at peace with my body. I have come to realise over the years that the body I have is a gift, and it's one that is forever changing and I have accepted that. Some days I'm a little curvy, other days I'm a lot curvy - and I love it all! I want others to love and accept themselves too.
You have worked with so many great brands, how do you select the brands you work with?
I am pretty lucky having worked in the curvy fashion industry as a model not only here but across Europe, UK, the US and Canada. I used to believe that you could only find well made curvy clothes overseas but that is no longer the case - there are so many incredible Australian labels who make beautiful designs, and I feel privileged to have worked with many of them. I try to support Australian businesses as much as I can, and ethically produced clothes is also something I love promoting.
How would you explain your own personal fashion style?
My style has evolved over the years. I used to love full glam but these days I go for a more classic understated style. I'm very much about comfort (I think that comes with age!) and love wearing natural fibres that breathe and feel incredible on the skin. 
What's your favourite go-to outfit or piece when you need to feel confident? 
I love a beautiful linen shirt with my favourite jeans and to dress it up I throw on a blazer. It's a simple look that I can wear anywhere!
Who is your ultimate fashion or beauty icon? 
Sophia Loren has always been someone I've looked up to. I love her style and her outlook on life. She says "Everything you see I owe to spaghetti. Nothing makes a woman more beautiful than the belief that she is beautiful". I mean... who doesn't want to be best friends with someone like that!?
What do you love to do in your spare time?
I love plants! I spend a lot of spare time tending to our plant collection and garden, and I love taking our pooch Ruby to the beach. 
3 things you can't leave home without? 
Sunglasses, phone and hand cream.
What was your favourite PQ garment to try on and why? 
I loved the Twirl Tie Skirt! I feel like I could have stepped out of a black and white movie set in the South of France. It's the perfect Summer wardrobe piece!
You have already achieved so much, what's next for you? 
My next big adventure will hopefully be becoming a Mum! My fiancé Hayley and I are actually sharing our fertility journey in our new podcast called "What The IVF?" to help other women out there feel less alone on their journey. Watch this space, we will hopefully have a new addition soon!
WATCH THE PQ COLLECTION X FIONA FALKINER IGTV
SHOP FIONA'S PICKS BELOW
Twist Dress in Black
Ruffle Dress in Coral Reef
Miracle Dress in Sunset
Ruche Skirt in Sunset
Miracle Shirt Dress in Black
Everyday Pant in Falling Leaf
T-Shirt in French Navy
Ruche Skirt in Ocean Reef
Ruffle Dress in Garden Bloom Collection 2019 Sale 70% Off Title for image