Sustainable Fashion: Buy Plus-Size Clothing in Australia with These Tips in Mind
Posted by MAXIM CLAES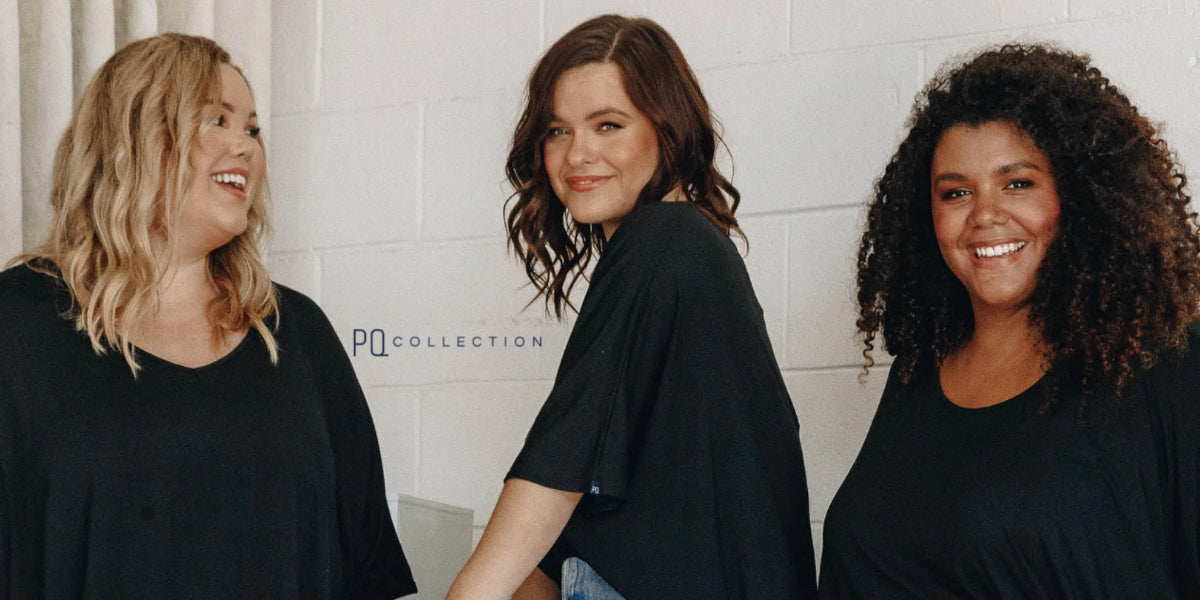 Concerned about the environmental impact of your fashion choices? The solution seems easy: shop from sustainable brands. But it becomes a little more complicated if you're a plus-size shopper. The scarce availability of plus-size clothing in Australia makes shoppers resort to the extended sizes that fast-fashion brands offer. So, where do you begin if you're a plus-size wearer who wants to shop more sustainably?
Let's talk about sustainable fashion first. 
Sustainable fashion refers to clothing pieces made in a way that reverses or is at least mindful of the environmental issues often associated with the fashion industry. It means shopping from brands that put the environment first and care about how their employees (and suppliers' workers) are treated. It's also about buying high-quality garments that can last for years and not be thrown away after just a few wears. So how can you apply these principles when buying plus-size clothing in Australia?
Fret not, as we've got some tips for you. Read on to learn some tricks to help you embrace sustainable fashion while shopping for plus-size clothing in Australia.
Think about where your clothes come from. 
When we talk about the environmental impact of clothes, it's vital to consider the materials that go into making these pieces. Keep that in mind when shopping for plus-size dresses or denim jackets. Are they made of natural fibres, bamboo or any other sustainable resource? Does it take a lot of water to manufacture their raw materials? It can be difficult to know all this from a product description, but go and do a little digging on the fashion brands' websites. Usually, the best online plus-size clothing brands in Australia will let you know how sustainable their materials are. 
Build a capsule wardrobe. 
Building a capsule wardrobe is a minimalist approach to styling aligned closely with sustainable fashion. Instead of filling your closet with tons of clothes, purchase only a few high-quality, versatile pieces. Let go of your summer or winter wardrobe and buy items that will work for you all year round. That way, you can easily mix and match even without having too many pieces. 
PQ Collection is a good place to start building your capsule wardrobe. We offer a collection of high-quality, stylish & plus-size tops that you can easily match with our bottoms which are designed and manufactured with curvy bodies in mind. For instance, we've got a pair of black denim pants you can wear with everything! Simply buy three to five wardrobe essentials, and you can create multiple outfits that reflect your personal style. 
Shop for quality over quantity.
Even if you choose not to have a capsule wardrobe, always shop for quality over quantity. Don't get too excited and buy lots of dresses and outerwear once you hear a popular fast-fashion brand has started offering pieces in extended sizes. 
Higher-quality clothing usually lasts longer; unlike fast-fashion items, they won't end up in the landfill after just a few wears. How to shop for quality? Notice the details; feel the fabric and check the quality of the seams and zippers. High-quality plus-size clothing will likely be more expensive than others, but remember that shopping for quality and durability will save you money in the long run. That's because you don't have to keep spending on replacing low-quality wardrobe items. 
Go the extra mile in caring for your plus-size clothing. 
Embracing sustainable fashion doesn't stop at buying high-quality, sustainably-made clothing. Caring for your clothes is also part of lowering the environmental impact of your fashion choices. Higher-quality clothes will likely last longer than fast-fashion items, but they still need to be taken care of, so you have to replace things less often.
Using a steamer is one way to take better care of your clothes. It's a more efficient and gentler alternative to ironing. It eliminates wrinkles while killing odour-causing bacteria, keeping your clothing items fresh in between washes (it's perfect for those pieces you can't wash frequently). Also, you must learn how to best care for your specific items. For instance, you should only hand-wash your cashmere jackets and wash your denim inside out to protect the fibres from direct exposure to detergent. 
Shop from PQ Collection today. 
Ready to apply these tips? Shop from PQ Collection today. We proudly offer a Curve range that caters to plus-size ladies. Our other product lines are also suitable for various body types and shapes, making you feel fabulous at all times. Best of all, we're committed to ensuring our garments uphold our mantra of providing high-quality, ethically-made, inclusive, easy-to-wear & affordable clothing. Collection 2019 Sale 70% Off Title for image